Volunteer Spotlight: Lingering Energy from Woodcrest Church Volunteers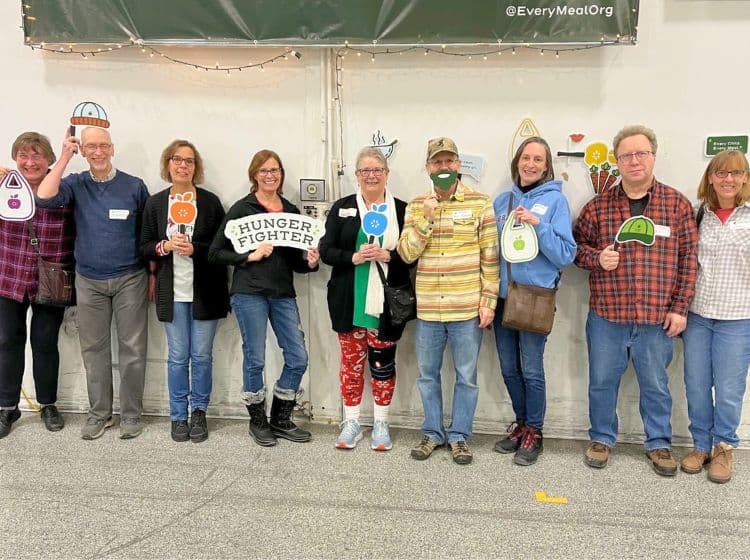 Woodcrest Church volunteers volunteering at an Every Meal public packing event.
By Karolina Pien, Volunteer Coordinator
At Every Meal, our Weekend Meal Program is the core of our organization. Through this program, we help fill the food gap Minnesota students face on the weekends by providing weekly food bags during the school year.
What's the key to the success of this program? Volunteers! We rely on our network of food distribution volunteers who give their time every week to place Every Meal food bags directly into children's backpacks in over 400 schools.
Sponsor Volunteer Coordinators in particular help ensure the Weekend Meal Program is running smoothly at each school. These volunteers are part of a sponsoring organization that is partnered with a school and dedicate their time to coordinating the distributions at that school. Sponsor Volunteer Coordinators attend Every Meal's distribution training in the fall and then train and prepare their team of volunteers to do weekly distributions once school gets started. They may join weekly or periodically throughout the year. 
As we prepare for the start of the 2023-2024 school year, we want to spotlight the group of volunteers from Woodcrest Church, which sponsors Red Pine Elementary School in Eagan. Barry and Cathy Taylor have been the amazing Sponsor Volunteer Coordinators there for the past two school years and are getting ready to lead their volunteer teams in distributing food bags for the new school year. 
They are a great example of how it takes all of us to ensure the food gets to the kids. These volunteers serve as a bridge between Every Meal and the local community. Their involvement fosters a stronger connection between the school and the families they serve. Here's what they have to say about why they volunteer year after year.
---
"
"We love the fact that volunteering with Every Meal enables kids, who otherwise might not eat well on the weekend, to come to school on Monday mornings better prepared to learn. It enables us to do what Christians are meant to do and want to do … love our neighbors. It provides a means for us to be active in our community, to contribute, and to make people aware of Woodcrest Church.
We also love the staff at Red Pine School. They are extraordinarily friendly, welcoming, and helpful. Their attitude toward us as we make our rounds through the school gives us a boost and causes us to want to do even more. We recently received some feedback from the school social worker that the 'joy-filled, can-do attitude among the volunteers is refreshing and very contagious.' She said that while we are in and out of the school in the blink of an eye, 'there is an energy that seems to linger.'  That type of encouraging feedback just fuels our enthusiasm – it's an upward relationship spiral!!!
Red Pine School, and others like it, play an extremely important role in our society. Helping that school has a beneficial impact on our community. Every Meal provides a means for us to engage with school staff and develop relationships. Through those relationships, we learn about other ways that we might be able to help the school.
– Barry and Cathy Taylor 
---
Thank you Barry and Cathy and the volunteers from Woodcrest for the can-do attitude you bring and the lingering energy you leave behind.
If you're interested in becoming a volunteer to help distribute food bags at a school, learn how at www.everymeal.org/distribute-food.
Interested in meeting some of our other awesome volunteers? Check out our 2023 monthly volunteer spotlight series: