Volunteer Spotlight: Becky and her happy place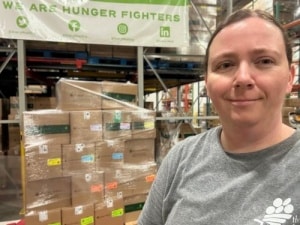 By Karolina Pien, Volunteer Coordinator
From first-time volunteers to long-time volunteers, every single one of our volunteers plays an important part in our work to feed hungry children. The ones who keep coming back, time after time, are the people we're able to get to know better and form deeper connections. They not only have a direct impact in our community but also leave a lasting impact on our team.
Becky is one of those returning volunteers who I've gotten to know over time. As a working mom, her dedication to volunteering at Every Meal is inspiring. After volunteering with us packing food bags, she offered to help wherever our need is on the days she's available. This has meant trying out different volunteer roles and is a perfect example of leveraging our volunteer opportunities to best fit the needs of the organization and individuals. We are in our happy place when those things align and everyone can come together to fulfill our mission.
Below, Becky shares her experience and motivation for volunteering at Every Meal. I hope you feel as inspired as I have been by her.
---
"
"I found my way to Every Meal in January 2022 when my family was hosting a German exchange student who needed to do some volunteer hours. Little did I know that Every Meal was less than 2 miles from my home! I volunteered as well and I was hooked after my first volunteer shift packing food bags. 
After our exchange student left, I kept coming back to pack  and got involved with order building, too. Now I volunteer on most of my days off from work, and I proudly surpassed 100 hours of volunteering recently!
I love the upbeat attitude and enthusiasm from the Every Meal staff and fellow volunteers. Everyone smiles! It's easy to feel valued and see the whole process – breaking down pallets of bulk food items into individual food bags, then into boxes, then into orders to send out into the community. 
My 7-year-old daughter is eagerly awaiting her next birthday so that she can start to volunteer with me. She knows I call Every Meal 'my happy place.' 
The pandemic taught us that life is unpredictable, and it's reassuring to know that organizations like Every Meal are out there to help fill in the gaps."
– Becky
---
Thank you Becky and all our volunteers who keep coming back to volunteer and making Every Meal a happy place for us all! 
Interested in meeting some of our other awesome volunteers? Check out our 2023 monthly volunteer spotlight series: