Volunteer Spotlight: Doug Van Vreede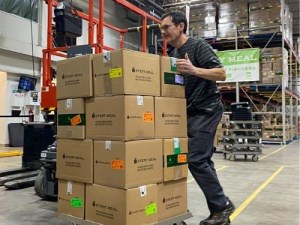 By Karolina Pien, Volunteer Coordinator at Every Meal
At Every Meal, I get to see first-hand the hard work volunteers do to help further our mission of fighting child hunger. In my role, I am often left inspired and ever grateful for the various skills and experiences volunteers bring to our organization. To give you a glimpse into the impactful work our volunteers do, we will be highlighting some of our incredible volunteers every month this year.
For January, we're shining the light on our order-building volunteers. Did you know that we deliver our food to over 400 schools? To make sure each location gets the right type and amount of food at the right time, we have volunteers who help build the orders. So without further ado, I'd like to introduce you to one of our order-builders – Doug Van Vreede.
---
"
I have been involved with various volunteer opportunities at Every Meal since 2018. I now mainly volunteer as an order-builder, assembling the food orders that need to be delivered to schools or community sites for the week. In this role, I was surprised to learn that some of the locations receiving food are schools in my neighborhood. Food goes to almost every metro neighborhood, so it is clear to me that there is a huge demand to feed kids. 
Volunteering at Every Meal is very satisfying because I know I'm making a difference. It's especially enjoyable as I get to work with friendly and very grateful staff, who are incredibly dedicated to the mission of feeding hungry kids. I also hear driver's stories about the challenges of delivering food in bad weather, mechanical problems, difficult school logistics, etc. Every order I build is one that the staff doesn't have to build.
I volunteer because I believe in the mission of Every Meal. They are serving a real need in our community and doing it exceptionally well. The nutritionists on staff verify the quality of food and offer culture-appropriate choices. It is a very well-run and intentional organization. They are transparent about their finances (all on the website). I'll keep coming back.
– Doug Van Vreede
---
Thank you Doug and to all of our order builders who help build the food orders we send out to our school partners every week!
Stay tuned for our next volunteer spotlight in February as part of our monthly series in 2023.