Your church, company, synagogue, mosque, club, etc. can sponsor a school right here in Minnesota.
Every Meal is an ever-growing network of food gap programs designed to fill the gaps in food access that children face during weekends, summers, and extended breaks. Our primary focus is our Weekend Meal Program, which operates in multiple schools to provide children with wholesome food each Friday and eliminate the weekend food gap. Each of our schools is sponsored by one or more groups in the community – an essential component of our programs.
How Sponsorship Works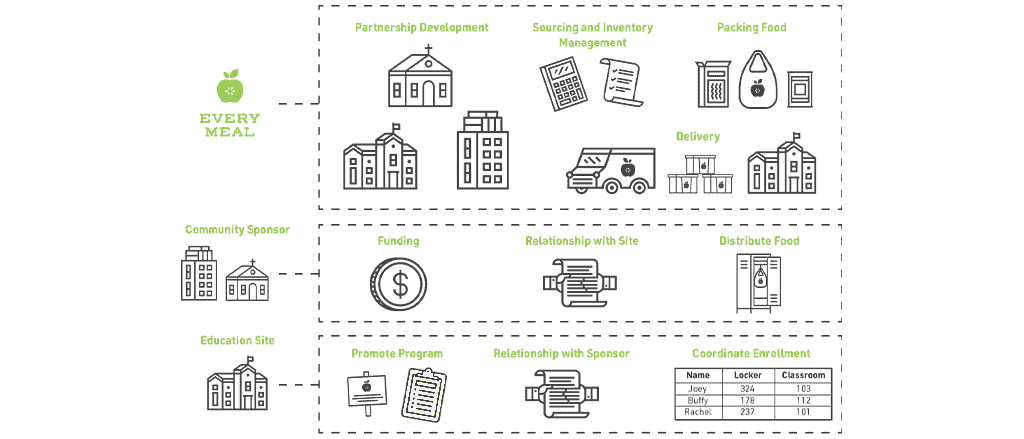 Every Meal's Role – We support the successful partnerships between sponsoring community organizations and schools in need. We provide the logistical and operational arm of the program – we source, pack, manage inventory, store, and deliver the food to your partner school. We will work with you along the way, advising where you need us, to make it easier for your organization to feed kids in the community.
Community Sponsor's Role – If your organization chooses to partner with a school, you can expect to:
Own the relationship with the school
Donate towards the cost of the program
Provide volunteers to distribute meal bags to the children at school on Fridays
Education Site's Role – An individual school or school district, as well as other types of education sites can be expected to:
Own the relationship with the sponsor
Promote the program
Coordinate enrollment at the education site
Learn More