Volunteer Spotlight: Mary's Positive Impact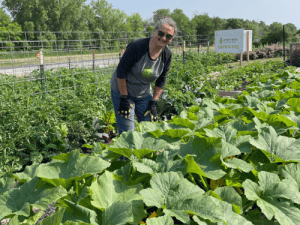 By Karolina Pien, Volunteer Coordinator
With the end of the school year, a lot of our volunteer food bag packing events slow down for the summer. But that doesn't mean that our work to serve kids who don't have enough food stops during this time, and neither does our need for volunteers. 
While Every Meal's primary focus is to fill the weekend food gap children experience during the school year, we seek ways to continue making a positive impact during the summer months when kids don't have access to school meal programs. In fact, Positive Impact is one of our core values at Every Meal that drives our work year-round. Our volunteers demonstrate this value every time they dedicate their time, skills, and passion – all of which contribute to making a positive and equitable impact in the lives of children experiencing food insecurity.
Mary, a retired school nurse who has dedicated this season of her life to fighting child hunger, models our value of Positive Impact in a very inspiring way. She has taken on multifaceted volunteer roles at Every Meal, leaving her mark on our staff and the lives of countless children in the community. As an experienced volunteer, Mary became an Every Meal Volunteer Ambassador in 2022 to help staff with training and supervising volunteers during packing events.
This summer, she's expanding her impact as the Grow & Give Lead Volunteer for our Grow & Give Program, which brings together produce from Every Meal's garden along with donated produce from community garden partners and individuals to distribute to local children and families throughout the growing season. She's taken on many aspects of this program, including planning, planting, maintenance, and upkeep of our Grow & Give garden in our Roseville warehouse.
For Mary, the seed of compassion for child hunger was planted many years ago. The unique experiences and skills she's acquired over the years combined with her compassionate spirit have led her to seek opportunities to continue to nourish the bodies and minds of children in need into her retirement years. 
Here's what inspires her about volunteering at Every Meal. 
---
"
"I was a school nurse in multiple elementary schools over my years in the Minneapolis public school district. I saw that some kids were really tired, especially on Mondays, and had a hard time paying attention.  The nurses and teachers knew that healthy kids are better learners and good nutrition is certainly a big part of being healthy. The food Every Meal provides really helps fill the gap from school lunch on Fridays to breakfast on Mondays at school.  
Some of the teachers, social workers, and health office staff often had snacks on hand, bought with their own money, for the kids that were hungry.   School nurses even had a motto – Healthy Kids are Better Learners. Every Meal knows hungry kids are not learning and addresses this issue in such a meaningful way. 
Helping address food insecurity through Every Meal gives me the opportunity to still contribute to the well-being of students. It also lets me work with amazing staff and volunteers, all people who share a desire to see that kids have healthy weekend meals. It's so important. My time volunteering for Every Meal is never wasted. And I enjoy doing it!"
– Mary Jones-Morris
---
Thank you Mary for continuing your passion to move hearts at Every Meal and make a positive impact on child hunger.
If you want to get involved in our Grow & Give garden this summer, check out our volunteer opportunities here.
Interested in meeting some of our other awesome volunteers? Check out our 2023 monthly volunteer spotlight series: