Volunteer Spotlight: Angi's Welcoming Smile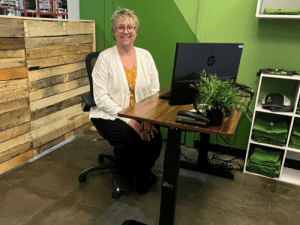 By Karolina Pien, Volunteer Coordinator
In the summer months, you'll find our cheerful volunteers outside helping with Every Meal's garden as part of our Grow & Give Program. But you'll also find volunteers inside ready to greet guests with a welcoming smile. Our Admin Assistant Volunteers do just that and so much more! They not only help create a welcoming environment for guests and other volunteers by answering the door and greeting them but also help with a wide array of administrative tasks and other special projects from our various departments.
This role is part of our Skill Based Volunteering, which aims to leverage the specialized skills and talents of qualified volunteers to help build capacity and strengthen the infrastructure of our organization. Everyone has a special skill or talent to bring to the table. From administrative support and building repair to taste-test preparation and photography services, the types of skills and talents this group of volunteers can offer are vast. (In fact, you can meet another of our skill based volunteers we highlighted in May for his coaching expertise – Alberto.)
We added the Admin Assistant Volunteer role this year to a great response. Meet Angi, one of these volunteers who may greet you at the door on your next visit to our Every Meal warehouse in Roseville. She is a retired IT project manager from General Mills. She enjoys computer work of all kinds and organizing stuff. 
---
"
"My church, Bryn Mawr Presbyterian, has been partnering with Every Meal for a long time – since it was called The Sheridan Story. I started getting involved by volunteering to fill food bags into backpacks at our local elementary school several years ago. Last year, a group of us from the church volunteered to do a packing event. It was a great experience, and I was so impressed by the organization and commitment of the staff and volunteers to feeding families.
I have been hoping to find a regular, meaningful volunteer position to do in my retirement. The mission of Every Meal is something I believe in with all my heart. After our packing event last year, I joined the Every Meal volunteer fan club online to alert me to admin volunteer opportunities. When I got a notice that this opportunity was opening, I followed up and have now been serving for several weeks. I enjoy helping in any way that is needed – no day is ever the same! I love answering the door, helping out with computer tasks, and whatever the staff might need. I appreciate being around the energy of good people doing good work for others."
– Angi Hooker
---
Thank you Angi, and all of our Admin Assistant Volunteers, for supporting our mission to fight child hunger with your passion, commitment, and skills … and of course, your welcoming smiles.
If you would like to share your skills and talents with Every Meal, please email our Volunteer Department at volunteer@everymeal.org.
Interested in meeting some of our other awesome volunteers? Check out our 2023 monthly volunteer spotlight series: