Volunteer Spotlight: Linda Rorke and her team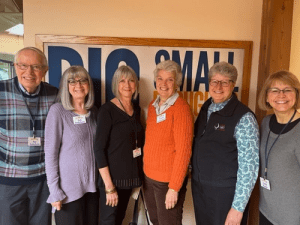 Left to right: Ray Soderholm, Deb Soderholm, Liz Littlefield, Connie Hauswirth, Deb Lind, and Linda Rorke
By Karolina Pien, Volunteer Coordinator and Jessica Ensminger, Program Coordinator at Every Meal
Distributing food bags directly in children's backpacks is at the heart of what we do at Every Meal, and our Food Bag Distribution Volunteers are at the center of it. For our February volunteer spotlight, we're focusing on this special group of volunteers who have a hands-on, direct impact on children in Minnesota living with food insecurity by consistently and reliably distributing food every week as part of our Weekend Meal Program.
Placing food bags in children's backpacks may look simple, but it involves a lot of coordination behind the scenes. A list is assembled with the student names, food bag type selected, classroom numbers, and locker numbers for volunteers to follow in order to provide each child with the right food bag to take home for the weekend, all while making sure to be discreet and courteous in the process. It takes building good relationships and communication to make this a good experience from all angles.
One key role that glues this group of volunteers together is the Sponsor Volunteer Coordinator, or SVC for short. To showcase the beneficial work of this role, this month we're highlighting Linda Rorke, the SVC for Eden Prairie United Methodist Church. Her church sponsors Oak Point Elementary and Eagle Heights Spanish Immersion, which share a building and are in the Eden Prairie school district. As the SVC, Linda is responsible for recruiting, training, and scheduling volunteers from her church.
Linda and her team have been wonderful partners for Every Meal. They are responsive, dependable, and thoughtful, and they make it easy for their schools to run the Weekend Meal Program effectively and efficiently. Hear below from Linda and some of her team members on why they choose to dedicate their time volunteering in this capacity.
---
"
"I volunteer because I have been blessed to have enough to eat, and I want to help feed children who do not have enough to eat. I enjoy seeing the teachers when we deliver meals after school.  They express their appreciation to us for delivering meals to the students who are in need." – LINDA RORKE
"I volunteer because I have been very blessed and I can't imagine being home for the weekend and not knowing if my family and I will have anything to eat." – CONNIE HAUSWIRTH
"The entire staff at OakPoint and Eagle Heights are so friendly and helpful!  It's fun to deliver food bags after school when children are still there. They are so lively and full of excitement and fun! A little girl came up to me in the hall and handed me a red heart! I kept that heart as a reminder of why I volunteer to deliver meals for Every Meal. What we do matters." – DEB SODERHOLM
"I was telling a younger person what I was planning to do one afternoon (delivering food bags to the students) and she got a smile on her face and said, "I used to get those bags." She is a twenty-year-old whose parents immigrated to Minnesota from Ecuador. When she said how good it was that we did that, I knew it was a genuine compliment from the heart."  – LIZ LITTLEFIELD
---
An extra thank you to Linda for coordinating food distribution volunteers from Eden Prairie United Methodist Church and to her team – Connie, Deb L., Deb S., Liz, and Ray – for assisting with the food distribution into students' backpacks!
Interested in meeting some of our other awesome volunteers? Check out our 2023 monthly volunteer spotlight series:
January 2023 – Volunteer Spotlight: Doug Van Vreede