Volunteer Spotlight: Alberto's Coaching Skills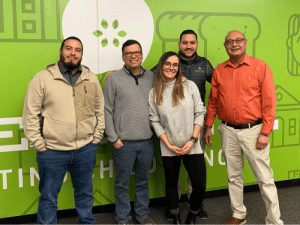 Left to right: Jesus Balderrama, Martin Medina, Patricia Suarez, Juan Penagos, and Alberto Peroza
By Karolina Pien, Volunteer Coordinator
At Every Meal, we're expanding the ways volunteers can use their skills to help accomplish our mission to fight child hunger. We see so many possibilities where the time and talents of people in our community can merge with our work to transform the lives of children experiencing food insecurity through skill-based volunteering.
Skill-based volunteering is an important aspect of Every Meal's volunteer program. It's aimed at leveraging volunteers' expertise and knowledge to improve our performance and impact in the community. From administrative support and building repair to taste-test preparation and photography services, these types of volunteer opportunities have grown since receiving our Service Enterprise certification last fall as part of our approach to better integrate volunteers' skills into our work.
Fun fact:
As a Service Enterprise-certified organization, Every Meal is in the top 11% of nonprofits nationwide in volunteer management and organizational performance. The
Service Enterprise program
is a national change management program that helps organizations gain a greater return on volunteer investment to better achieve their mission.
Alberto is a noteworthy example of someone who exemplifies the true spirit of skill-based volunteering. Impressed with Every Meal's mission, Alberto wanted to use his coaching skills to support our work in fighting child hunger. He provides business coaching to the Latino community in the Twin Cities through his organization Globalidad Educativa, and generously offered 20 hours of his invaluable professional coaching services to our Supply Chain team. He guided the team in working collaboratively, improving processes, and enhancing their effectiveness in driving our mission forward.
Here's what Alberto had to say about his motivation to volunteer his skills.
---
"
"Estoy agradecido de poder afianzar esta alianza con Every Meal como un reconocimiento a través de nuestro programa educativo líder-coach por su valioso aporte nutricional para niños escolares con responsabilidad y calidad humana por parte de todo su staff. Gracias por esta oportunidad de juntos poder apoyar a los niños líderes del futuro." 
"I am grateful to be able to strengthen this alliance with Every Meal and show how our coach-leader educational program is assisting an organization that provides valuable nutritional support to school children with responsibility and humanity shown by all staff. Thank you for this opportunity to support our future leaders together."
– Alberto Peroza
---
Thank you Alberto for donating your time and talents to assist our team and enhance our work.  
If you are interested in providing your knowledge and expertise to Every Meal please email our Volunteer Department at volunteer@everymeal.org.
Interested in meeting some of our other awesome volunteers? Check out our 2023 monthly volunteer spotlight series: