Summer Meal Program launches in midst of increased food needs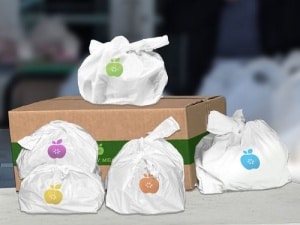 Every Meal's Summer Meal Program launched July 29, 2022 with the opening of over 100 food pickup locations. At each location, bags of food are available – no questions asked – to children and families seeking food support. The program will run through September 5, 2022 to make food accessible to kids during the time when summer school programs have ended and the school year has not begun.
Through this program, children and families can pick up free food bags containing 4-5 pounds of nonperishable food at 101 community sites throughout the Twin Cities including libraries, recreation centers, fire stations, and more. It's simple and easy. Individuals can go to the front desk and take the food bags they need – free of charge, no qualifications required. To find a site nearest you visit everymeal.org/summermeals.
"These food sites, located in the communities where kids and families live, are safe and trusted locations like libraries and fire stations," said Rob Williams, Founder and President of Every Meal. "We just launched this program and within a week already have sites asking for a resupply of food bags."
With inflation, higher food and fuel prices, and decreasing support options, the risk of hunger is very real for many children. Every Meal's Summer Meal Program is launching at a time when many families are struggling to put food on the table and are seeking additional food support. Every Meal is bracing for the need and preparing to deliver more food bags to partner community sites in August, but funding is limited. "We would love to provide an endless supply of food to each site," said Williams. "Unfortunately, we've seen a 29.3% increase in food in the last several months and can only afford so much food. We're prepared to provide over 82,000 meals through this program but I'm not sure if that will be enough."
Every Meal Program Manager Christine Weber says, "We are working hard to ensure kids have access to our food bags this August. Our goal is for the kids to remain nourished with good food and are ready to thrive going into the next school year."
Two key ways people can get help:
Spread Awareness – Share information about our free food bags available through our Summer Meal Program to anyone who might need it.

Donate – Your gifts help cover our food costs and make these food bags available for free through our community site partners. Every $100 provides a food bag for 25 children.