Hunger Action Month: 5 actions you can take in September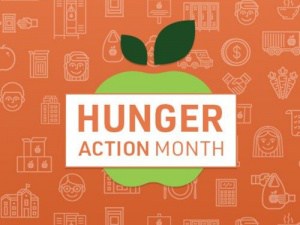 As part of Hunger Action Month, we've put together a list of actions you can take this September to fight child hunger right here in Minnesota. No action is too little. We hope you'll join us!
---
YOUR ACTIONS MAKE AN IMPACT
Child hunger exists right here in Minnesota. It is found across our cities, counties, and school districts and spans urban, suburban, and rural communities. With the effects of the COVID-19 pandemic, combined with inflation and higher food and fuel prices, more than 300,000 children in Minnesota are living with food insecurity. These are kids – OUR KIDS – who don't have consistent access to enough food for an active and healthy life. But we're taking action to change that, and we invite you to join us. 
5 ACTIONS YOU CAN TAKE TO FIGHT CHILD HUNGER
When you support Every Meal, you are supporting our work in filling the food gaps children face on weekends, extended breaks, and summer – the times when they're not able to access school meal programs. Through our core program – the Weekend Meal Program – we connect schools in need with sponsoring community organizations to provide children with food bags each Friday so they have good food over the weekend. Below are five impactful ways you can take action to keep our work going and growing.
Monetary donations are the most helpful way to accomplish our mission. As a 100% community-funded organization, we rely on donations to fulfill the incredible need in our community.
Distributing Every Meal food bags in students' backpacks is at the heart of what we do. Distribution volunteers play a vital role in ensuring kids have easy access to good food.
Awareness is the first step towards action. By using social media to tell family, friends, and colleagues about our work, you'll be helping spread awareness about the child hunger issues we face in our state.
Donate non-perishable food from the comforts of your home or office. Browse our grocery list and donate food items digitally. We'll make your dollars stretch further by buying from our bulk suppliers.
Wearing our branded apparel is another very visual way to help spread awareness about our organization and mission.
In whatever way you choose to learn about child food insecurity and take action during Hunger Action Month, we THANK YOU for taking a step towards fighting child hunger!