The COVID-19 virus is significantly disrupting all aspects of our community, especially for our children. With schools remaining closed through May 4th and expectations that this will continue for the remainder of the school year, hundreds of thousands of children are living with increased food insecurity.
OUR RESPONSE
Our network is responding! We've provided over 285,000 meals to children and families in the community. Our food bags are being distributed across 31 school districts in Minnesota and Western Wisconsin and at 26 YMCA branches in Twin Cities, Rochester, and Hudson. We are preparing more than 978,000 meals to meet the skyrocketing needs. And we will be working long after that to help stabilize families.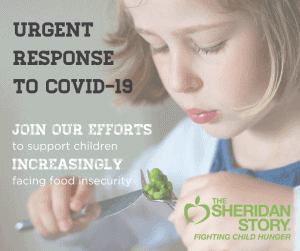 "THIS IS UNCHARTED TERRITORY FOR ALL OF US, BUT MINNESOTA'S AND OUR ORGANIZATION'S STRONGEST ASSET IS OUR ABILITY TO WORK TOGETHER TO SERVE THE CHILDREN. THANK YOU FOR YOUR PARTNERSHIP NOW AND ALWAYS."
– Rob Williams, Executive Director
A note from our Executive Director regarding coronavirus
Hear our Executive Director's initial call to action to our unprecedented response to keep kid's bellies full during this unprecedented pandemic.
The Otto Bremer Trust funds $379,000 worth of meals
Learn more about how our largest funding partner, the Otto Bremer Trust, is generously building upon our unprecedented response by providing $379,000 of emergency funding in response to the coronavirus pandemic.
One of the largest non-government nutrition response in Minnesota
Read more about our quick response to distribute over 168,000 meals to children and families affected by school closures in Minnesota and Western Wisconsin.
Partnering with YMCA to provide nutritious food during pandemic
See the YMCA locations where families can pick up our nutritious food bags for free.
Joint message to community from Minnesota hunger-relief organizations
Learn more about how we're uniting with 20+ hunger-relief organizations in Minnesota to serve our community during this unprecedented pandemic.
JOIN OUR EFFORTS
Your important donation will directly support our increase in food inventory and provide meals to hundreds of thousands of children increasingly facing food insecurity. EVERY $100 MAKES IT POSSIBLE FOR 25 CHILDREN TO RECEIVE MEALS.
VOLUNTEERING IS LIMITED TO PRIVATE GROUPS
We are extremely appreciative of the response from the community to volunteer. To limit exposure to the public and maintain the health and safety of volunteers and staff, we are changing our packing events at our warehouse to a smaller group of return volunteers. We are working with The Sanneh Foundation and AmeriCorps to minimize the number of people involved in packing food and help continue our essential work of providing food to the community. Events will be open in mid-April, but we are continuously reevaluating based on the current situation. Check here for updates.
TELL OTHERS!
You can help by spreading the word to your networks. You can share our posts on social media, share our coronavirus response page, create a fundraiser on Facebook, or any other way you'd like to share our efforts with your family, friends and colleagues.
ADDITIONAL INFO
Dig deeper on the increasingly significant need to serve children facing food insecurity and the unprecedented approach we are taking to fight for them.
Ensuring the health and safety of our network
Stay up to date on the measures we're taking to maintain the well-being of everyone involved in supporting our mission of fighting child hunger.
Read through our evolving list of  frequently asked questions as the coronavirus's impact on children and families facing food insecurity evolves.
HAVE ADDITIONAL QUESTIONS?
Please contact us at info@thesheridanstory.org or 612-568-4003.