We got the inside scoop on Izzy's Ice Cream 13 Days of Giving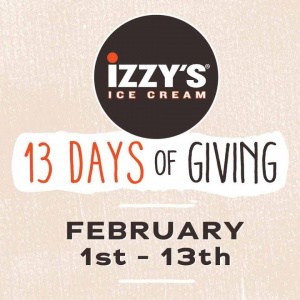 The Sheridan Story is a featured organization in Izzy's Ice Cream 13 Days of Giving this year. From February 1st – 13th, Izzy's is donating $2 from each Single or Double Sugar/Cake/Waffle Cone or Cup purchase to non-profit partners throughout Minnesota. One of thirteen organizations is featured each day, helping to highlight and raise funds for the incredible work each is doing in our community.
on February 10th, The Sheridan Story was the featured organization for the day. Customers who visited Izzy's St. Paul and Minneapolis shops learned more about food insecurity in Minnesota and had a portion of their qualifying purchases go towards our mission of fighting child hunger.
For the past seven years, Izzy's has been dedicating every February to giving back. New for this year, customers can match Izzy's donation or other purchases. On top of this, customers can make additional donations through the cash donation boxes in store.
Looking to add some sprinkle to your day and our community? Izzy's has found the perfect solution. We recommend the moxi irish cream, honey crunch or dairy free blueberry… all incredibly delicious.
Learn about the thirteen organizations featured in this year's 13 Days of Giving here.
Our sweetest thanks to all who've participated!