Transforming worries into smiles
The start of a new school year can bring up a lot of feelings for kids. For many children in Minnesota experiencing food insecurity, it can be joyful because it means getting a reliable source of food. Universal school breakfast and lunch successfully passed through our legislature this past spring! This is one big step in serving our hungry students, but there are other gaps in food access they still face.
Another, much different emotion can also stir up – worry. The very real worry that there won't be enough food for the weekend. This is where Every Meal steps in. Our Weekend Meal Program helps fill that food gap.
Every week during the school year, volunteers will be out at approximately 450 schools across Minnesota placing our food bags directly into children's backpacks so they have food for the weekend. Not just any food. Nutritious, delicious, and relevant food that nourishes their minds and bodies so they're ready to learn on Mondays.
Last school year, we saw record enrollment and had to make difficult decisions, including putting schools on a waitlist that only keeps on growing. Thanks to support from the community, we were able to say yes to nearly 12,000 kids a week and provide them with weekend food. The need is not slowing down, and we're expecting to serve all those children this school year – perhaps even more. In fact, we're expecting more schools to
end up on our waitlist.
Will you help Every Meal start the school year strong with a donation to support our Weekend Meal Program? 
Plus now when you donate monthly or make a gift of $1,000 or more, you'll join Every Meal's new Monthly Giving Circle or Leadership Giving Circle… or both!
There are many complexities around hunger and food insecurity, but one thing is clear: Your support transforms worries into smiles. Sometimes even tears and squeals. Very real tears of joy and squeals of excitement from receiving the first food bag because it means there will be food at home that weekend.
Let's bring smiles to children's faces to make this a great school year together!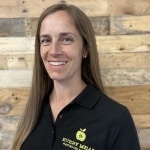 Lindsey Torkilsen, Associate Vice President of Impact