Summer 2020: Food insecurity remains an urgent need
Food insecurity remains an urgent need this summer. Our work is just getting started.
As the coronavirus pandemic continues into the summer, food insecurity among children continues to increase. For those living in neighborhoods affected by the recent unrest, access to food has heightened to new levels. Although summer remains uncertain for many children and families, we remain committed to being a reliable source of food during these unpredictable times.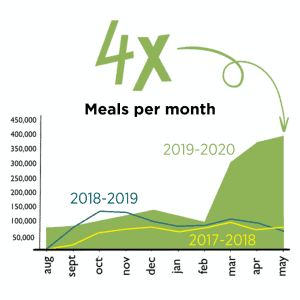 Continuing to provide 100,000 meals a week
Since March, we increased our food output by 400% – providing 100,000 meals a week – in order to respond to the rising food insecurity in our community. Thanks to continued support, we are continuing to provide 100,000 meals a week this summer. Overall, we expect to provide over 1,000,000 meals over the entire summer. This is approximately 10X more than the number of meals we provided last summer.
Adapting our summer programs in 2020
Partnership with Twin Cities School Districts
---
We are expanding our food support to school districts that are typically closed for the summer but are being asked to continue meal programs. Additionally, we are providing our weekend food bags at charter sites and a variety of community sites to help fill the gaps. In total, this includes 140 school and community locations. And the list keeps growing. We will continue to look into other ways to feed children in geographic areas not currently serviced and add key partners throughout the summer.
School Districts:

 Anoka-Hennepin, Bloomington, Brooklyn Center, Columbia Heights, Edina, Minneapolis, Richfield, Roseville, Robbinsdale, and St. Louis Park.

Charter Sites:

Athlos, El Colegio, and Partnership Academy

Community Sites: Conway Center, Faith in the City, Holy Trinity, Roseville Fire Department, WeCAN, YMCAs, and YWCA
Partnership with Minnesota Department of Education
---
Through the Migrant Education Program (MEP), we are serving children of migrant farmworkers. During the first week of June, we delivered over 7,000 meals at seven sites. This includes two new Tri-Valley sites that help recruit families for participation in the MEP.
Produce
---
New this year, our Grow & Give initiative brings together our produce garden partnerships, our brand new produce garden, and produce donations from community members to significantly expand the amount of produce we provide. All produce collected will be distributed weekly throughout the summer starting July 8. It will be given to families at Masjid Al-Iman Islamic Center in NE Minneapolis and piloted at Roseville Area Schools' summer food distribution sites.
Produce Garden Partnerships: We are continuing our partnerships with Dangerous Man and Surly breweries. We also have new partnerships with New Life Presbyterian Church. Additionally, the Northeast Farmers Market is donating leftover produce each week and allowing patrons to donate purchased produce to The Sheridan Story.
The Sheridan Story's Grow & Give Garden:

In partnership with Ramsey County, The Sheridan Story has converted approximately 4,000 sq. ft of county land right at our facility into a produce garden.

Grow & Give From Your Garden: From broccoli to zucchini and anything in between, consider donating produce from your home, business, or faith community. You can drop off produce donations at our warehouse at 2723 Patton Road, Roseville, MN 55113 on Mondays and Tuesdays from July 6 – September 30, 2020.