"He was crying"
"He was crying," the teacher said.
It was Friday of the third week of the school year and the Every Meal bags had been given out for the first time. The teacher saw one of his students find the bag of food in his backpack, and the child was so overwhelmed that tears started streaming down his face.
"This food is so appreciated by our students," the teacher continued. "But also by the teachers and school staff. Thank you so much for this program."
Every Friday for the remainder of the school year, this student will have a consistent and reliable source of food on the weekends.
I work at Every Meal to serve kids like him. It's not about the statistics, it's not about the data, it's about each child right here in Minnesota who has asked for our help – overwhelmed simply because they will have something to eat on the weekend.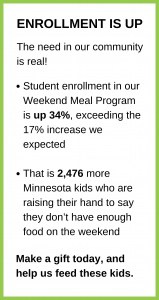 Every Meal exists for these children – our children. They are the force that drives our staff, volunteers, partners, and donors to fill the food gaps facing children in Minnesota.
The very first food bag we gave out was to a kindergartener at Las Estrellas Dual Language School in Northeast Minneapolis in 2010. Child by child and meal by meal, it grew until last month when a volunteer placed the food bag containing our 10 millionth meal in the backpack of a student at Centennial Elementary in Richfield. Whether it's the first meal or the 10 millionth meal, our focus every day is on every child. Every child should have the food they need to learn and grow.
This is why I donate to Every Meal, and I ask you to join me. We are so glad to have you in our community of people who believe that kids shouldn't worry about having food on the weekend. It takes all of us to tackle this challenge. During this busy giving season, please make a contribution to fight child hunger in Minnesota.
Your impact will be doubled thanks to a $500,000 match from the Otto Bremer Trust and a friend of Every Meal. Your gift of:
$77 becomes $154: helps buy 3 cases 6 cases of canned pears
$323 becomes $646: provides our weekend food bags to one child two children for the school year
$1,170 becomes $2,340: supports 40 kids enrolled in a school with food for 1 month 2 months
Every donation provides healthy food for kids in our community. Join us to serve every child enrolled in our program by making a gift securely online at everymeal.org/give or with the enclosed envelope. Let's fill hungry mouths together this holiday season!
With deep gratitude,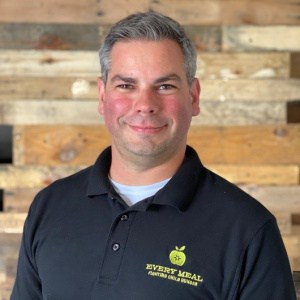 Nate Youngblood
Vice President
P.S. We know that this is a busy time of the year for giving. On behalf of all the children, thank you so much if you've recently made a donation!
P.P.S. If you're looking for special gift ideas, consider making your donation in honor or memory of someone special. Select "Dedicate this donation" when you make your gift, and you'll have the option to send them an e-card or mailed card.