Deepening our volunteer impact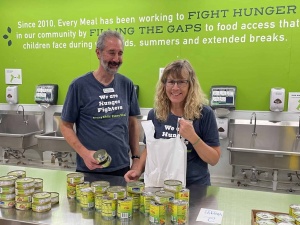 By Karolina Pien, Volunteer Coordinator at Every Meal
In my role as a Volunteer Coordinator at Every Meal, I have the privilege of working alongside volunteers and seeing our community in action. I've been inspired by volunteers thanking me for the opportunity, yet I'm the one who's thankful for their time and talents. 
I see first-hand how important volunteers are to expanding our mission of fighting child hunger. They help throughout the entire journey of food bags getting to their destination – into children's hands to fill their mouths and bellies. Volunteers are involved in packing food bags, building orders for our drivers to deliver boxes and pallets of food to our school partners, and distributing the food bags in student's backpacks every Friday during the school year. This is truly a remarkable process that involves so many people who are part of the full circle of giving. 
Our Volunteer Ambassador program is a special way we can deepen our relationships with volunteers during our food packing events. Volunteer Ambassadors help provide support during our food bag packing events to make sure they run smoothly. They come and help prep before the shift starts, give training on specific roles all while providing a positive and fun environment. A couple of Volunteer Ambassadors I'd like to highlight are Michael and Suzanne. They stepped into the Volunteer Ambassador role in 2021 and have served in additional volunteer roles since then. Hear from them below on why they volunteer with Every Meal.
---
"
We enjoy volunteering at Every Meal and working alongside the other volunteers and staff members to fight child hunger. As Volunteer Ambassadors, we were trained on how to complete all the different packing event tasks so that we can help other volunteers as they learn what needs to get done. We like the variety of tasks and the physical exercise involved. It also helps that the organization is well run, which makes it easy for volunteers to be involved. Plus, it is a fun and high energy atmosphere with great support from Ethan and Karolina!  It has been very rewarding for us to become members of the Every Meal team!
Through a group from my church, we also serve on a team of volunteers at a Roseville elementary school where we put the packed food bags from Every Meal into students' backpacks in their lockers. It has been especially rewarding to be involved in the journey of the food bags from beginning to end, knowing that they are intentional in their contents and are put together with care and respect.  
– Michael and Suzanne
---
Thank you Michael and Suzanne for your commitment to the children in our community! Also much love and appreciation to ALL of our Volunteer Ambassadors for dedicating your time and talents to our mission. You are simply the best