A perfect dinner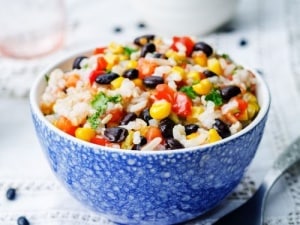 "I was worried about what to make for dinner…"
That's how the weekend starts out for far too many families right here in Minnesota. During the week, children are able to get food through meal programs at school. But weekends can be hard because those school meal programs don't continue into the weekend. Having enough to eat during that time can prove to be a real challenge, especially when money – and food – needs to be stretched until the next payday.
The worry of not knowing what will be the next meal doesn't have to exist. For one family, receiving the Every Meal food bag every week has meant exactly that – not having to worry.
"My daughter in Kindergarten brought home a bag from Every Meal in her backpack today. I was worried about what to make for dinner, and then I saw there was a perfect dinner in her backpack. Rice, corn, diced tomatoes, black beans, and pears. I cooked the rice and added the other ingredients, and we had the pears separately."
At Every Meal, we are very intentional with every food item that goes into each bag sent home so that the combination of ingredients can turn into "a perfect dinner." In other words, we make sure that our food bags provide a good source of nutrition by including a fruit, vegetable, protein, and grain. When there isn't enough money to buy food, families may eat less balanced meals or even skip meals. For families facing food insecurity, having access to Every Meal bags every week means children have access to a variety of foods and nutrients.
While nutrition is a core component of our food bags, it's not the only thing we take into account. In order for children to enjoy and benefit from the food, we say that food must be good. Good food to us means that it's nutritious, delicious, and relevant. We make sure our food meets current nutrition standards. We make sure our food looks, smells, and tastes delicious. And we make sure our food is relevant to the cultural or situational needs of our community by offering five tailored food bag options.
"Thank you for supplying a basic need to our family in a discreet way."
Food insecurity is often an invisible and hidden issue. For any of us, it can feel embarrassing to seek help. We know that asking for help can be a big obstacle for parents and caregivers, so we also work hard to make sure we provide our food in a manner that maintains the dignity of our families. To that end, we make our Weekend Meal Program free for any student at our partner schools with no qualifications required. Every Friday during the school year, volunteers place our food bags discreetly into participating students' backpacks so that they have "a perfect dinner" ready to go for the weekend.