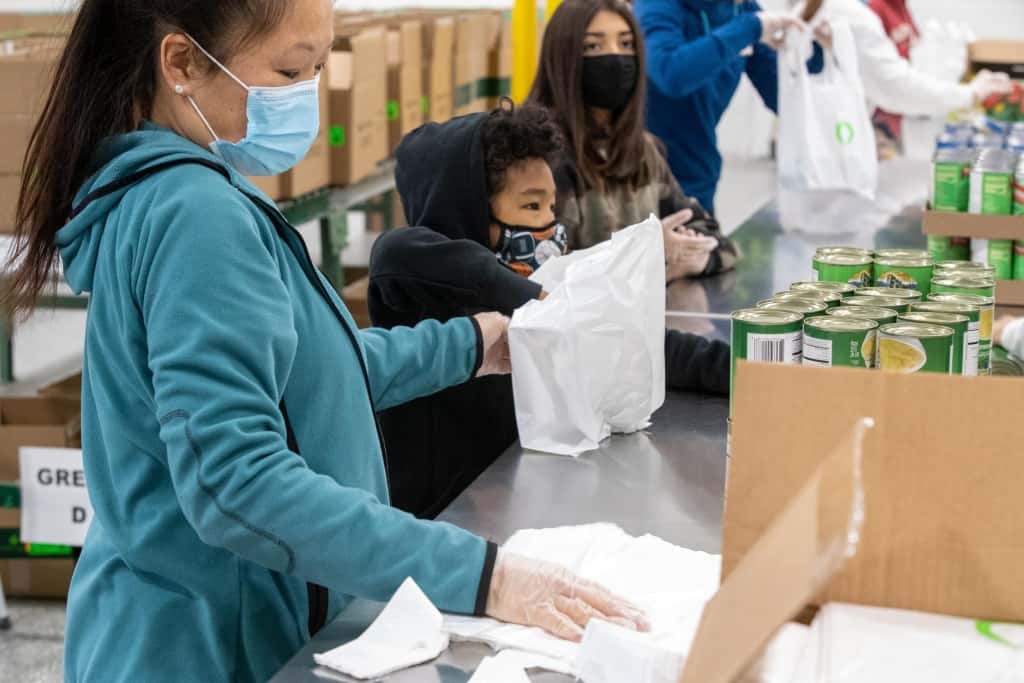 At Every Meal, our volunteers play key roles in partnering with us to fight child hunger in our communities. To continue our essential work of providing food to children and their families through the ongoing coronavirus (COVID-19) pandemic, we continue to monitor and follow guidance by the Centers for Disease Control and Prevention (CDC) and the Minnesota Department of Health (MDH).
We aim to make your health and safety our priority.
1. Before registering to volunteer, are you able to answer "no" to the following questions?
Are you currently experiencing any symptoms of illness consistent with COVID-19? Symptoms of COVID-19 can include fever, cough, shortness of breath, chills, headache, muscle pain, sore throat, fatigue, congestion, or loss of taste or smell. Other less common symptoms include gastrointestinal symptoms like nausea, vomiting, or diarrhea. For more information about symptoms, click here.

Have you or a family member been instructed to self-quarantine in the last week?
Do you have symptoms of any other health condition that is contagious?
If you answer "yes" to any of these questions, you should not register to volunteer until you are no longer symptomatic or quarantined. Thank you for your understanding.
2. If your answer to any of the questions changes after you register, please stay home. Make sure to unregister here.
3. When you arrive at Every Meal:
Masks are currently not required but are encouraged if that is your preference.
As part of your general orientation and introduction to our preventative measures, volunteers will receive instructions on the location and use of our handwashing stations, how to maintain a safe distance, and how to comply with the other preventative measures that we have implemented.
4. In addition to the above, our preventative measures also include:
Groups will now be capped at a maximum of 45 volunteers per event.
Every volunteer must sign up individually and have a current signed release form in our files.
We do not allow volunteers under the age of eight.
Vinyl gloves are available for volunteers who want to wear them.
Volunteers are spread out as much as possible. However, please be aware that in some circumstances, volunteers may cross paths in the warehouse.
After each event, we clean all work areas and sanitize the tables and tools.
Other measures announced during orientation.
We are continuously monitoring this dynamic situation. Our preventative measures are constantly monitored to confirm that they remain in compliance with the CDC and MDH to reflect the best practices.  We will revise our preventative measures with your health and safety as our highest priority.
5. Interested in volunteering with us? Sign up here. 
Thank you for your patience and understanding, and especially for using your time and skills to meet the critical needs of children in our community during these extraordinary circumstances.